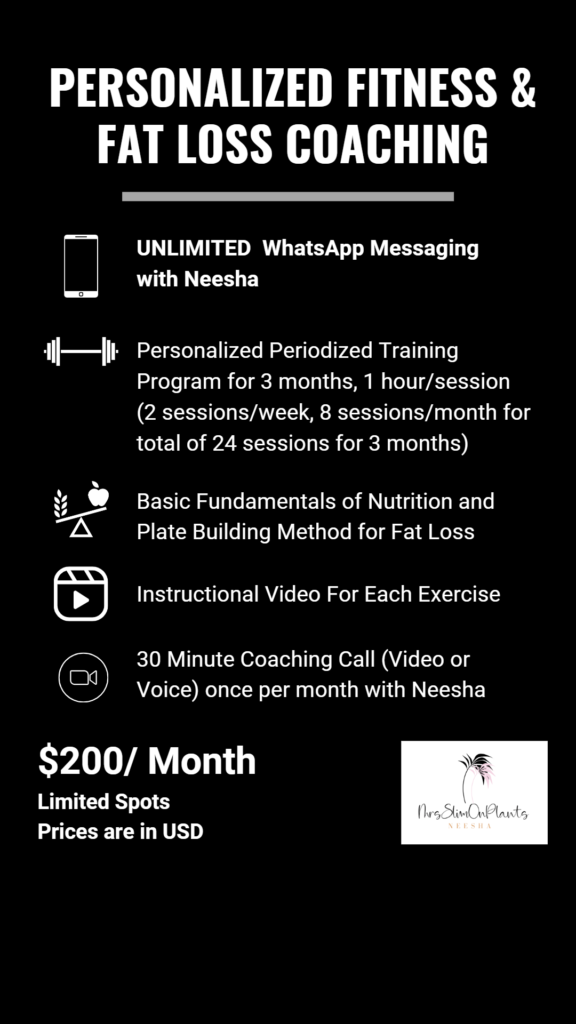 This plan is great for any fitness level as it offers top notch coaching and support as well as basic guidelines for plate building (including macronutrient breakdown and custom vegan meal plans if you choose this option for an additional cost). All of my online coaching packages offer unlimited text messaging with me via WhatsApp, alternative exercises for home or gym and adjustments as necessary, and consistent support. Workouts provided will be catered to your schedule and preferred workout location/equipment available (gym/home or both). This plan includes a 30 minute coaching call (your choice of voice/video) with Neesha ONCE per month to check-in on progress and adjust training/nutrition as necessary to ensure optimal results from your plan.
Please note only Vegan Meal plans are available. However, I do train clients that are non-vegan. If you're a non-vegan, I will provide you with guidelines on how to track your macronutrients and how to build a weight loss plate or for muscle building.
**Minimum 3 Month Commitment**
In order to provide best support to my clients, I only take a limited number of clients. Please click on "Sign-Up button below" and I will let you know as soon as possible if there is a spot open!